To love jewelry is to love history, geology, gossip, royal intrigue, aesthetics, craftsmanship, and about a dozen other subjects. Here's your ultimate guide to reading about our favorite subject.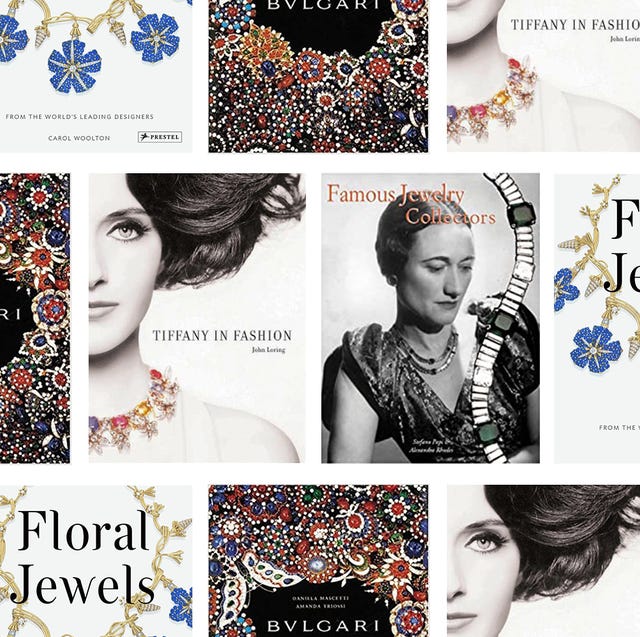 DESIGNED BY ARIANNA CANELON
Some collect jewelry. Others collect jewelry books. And the very lucky collect both. I have been thinking a lot about the ultimate jewelry library as I examine my own shelves. As in all fields there are seminal works, prized for their research and in the case of jewelry, their beauty as well. Some are focused on a specific material (the out of print Pearl book, for example) and some chronicle one great collection (Liz Taylor's My Love Affair with Jewelry), others tell the story of a legendary jewelry house like Cartier or Bulgari. As I begin to fill the gaps in my own jewelry library I turned to one of my trusted jewelry Mafia members for some advice. " I used to think I spent too much on my books," says Sotheby's Frank Everett. "Now I'm glad I did. They're entertaining, and I'm referring to them daily as I work from home!"
1
The Queen's Jewels: The Personal Collection of Elizabeth II
"This was my first jewelry book, and what a place to start. The worlds most important stones, most important collection and most important provenance. I have read it cover to cover many times. I gave it as a gift to my boss in 1993 who left it on a shelf for years unopened, so I took it home. She is still a dear friend, and if she reads this and wants it back I am happy to return it."
2
Bvlgari by Daniela Mascetti and Amanda Triossi
"I started my jewelry career at Bulgari and this book was a crash course in La Dolce Vita. This beautifully detailed history of the house combined with the high quality of the photographs and writing make this a feast for the eyes. I am fortunate to have a slipcased first edition and can devour it any day of the week."
3
Floral Jewels: From the World's Leading Designers by Carol Woolton
"I met Carol Woolton in London several years ago and we hit it off immediately. My love of flowers and floral jewels aligned perfectly with hers. We decided soon after meeting to collaborate on a selling exhibition at Sotheby's. Last year's In Bloom was a great success and was largely inspired by Carol's beautiful book, which covers flowers as a design inspiration spanning all periods, styles and makers. This book makes me so happy, and I am paging through it a lot these days!"